ゲームのインタフェースによる現実世界とのインタラクション。
Interacting with the real world through a common video game interface.
Video documentation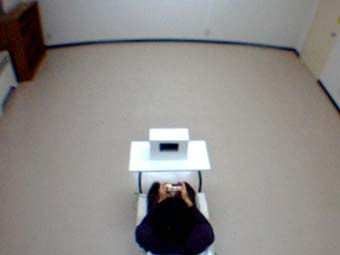 ---
コンセプト
"The Life of Game"は視覚と身体感覚の関係性を再構築し、人間と環境とのインタフェースについて探るインタラクティブアート作品である。
現実の様々な行為を題材に多くのテレビゲームが作られている。
現実とゲームでは
・「自分自身」を客観的な視点から見る
・「自分自身」を動かすためにコントローラのボタンを押す
というインタフェース上の決定的な違いがある。にもかかわらず我々はそれをごく自然に受け入れ、楽しんでいる。本作品では、現実世界を模倣しながらも独自の表現を獲得したゲームにおけるインタフェース表現を、再び現実世界に適用することを試みた。
Concept
"The Life of Game" is an interactive artwork designed to explore the human-environment interface by reconstructing the relationship between vision and physical sensation.
Many video games are made with the various actions of the real world as their motif. The interface in common video games is, however, completely different from that of the real world in two ways:

1. You see "yourself" from an objective viewpoint.
2. You hold a controller and push buttons to move "yourself."

In spite of these differences, we quite naturally accept and enjoy video games.
In this work, the author attempts to re-import the characteristic reality-mimicking interface from common video games and apply it once more to the real world.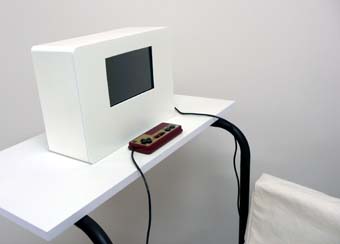 ---
実装
本作品は電動車いす、ビデオカメラ、ディスプレイ、ゲーム機のコントローラ、それらを制御するコンピュータと専用のソフトウェアにて構成される。
電動車いすの前方に取り付けられたディスプレイには体験者を頭上から撮影しているビデオ映像が映っており、電動車いすはゲーム機のコントローラで操作できるよう改造されている。
これらの仕組みにより、体験者はディスプレイの中の自分自身を客観的に見ながら、ボタンを押して足を使わずに現実世界を動き回ることができる。
Implementation
The work consists of an electric wheelchair, a video camera, a LCD (Liquid Crystal Display), a video game controller, a PC, and custom-built software.
The LCD is installed in the front of the electric wheelchair and provides the user with a video image of themselves shot from overhead. The electric wheelchair is modified to be operated by a video game controller.
By way of these devices, the user, while viewing themselves objectively on the LCD, moves around the real world not on his/her foot but by pressing buttons.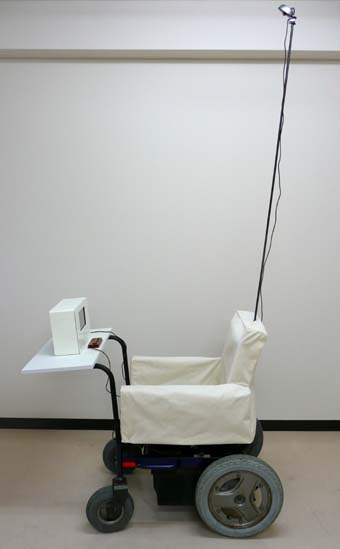 ---
展示 および 発表
2007年9月4日~14日、ワセダギャラリーにて開催のFuture Imagesにて展示。
http://www.futureimages.info/
PechaKuchaNight in Nagano #3 (2008) にてプレゼンテーション。
http://www.pecha-kucha.org/night/nagano/3
http://www.youtube.com/watch?v=UlEDGZX5qLY
Exhibition and presentation
Future Images 2007.9.4 – 14 at Waseda Gallery in Tokyo.
http://www.futureimages.info/
Pecha Kucha Night in Nagano #3 (2008)
http://www.pecha-kucha.org/night/nagano/3
http://www.youtube.com/watch?v=UlEDGZX5qLY